We're expanding our HR team!
Talent Acquisition Specialist
Remote, Croatia
Currently we're expanding our HR team and looking for a Talent Acquisition Specialist! If you have a positive and proactive mindset, creative approach, excellent people skills and like to keep things organized, keep reading. 🙂
About our company culture
Firstly, we'd like to tell you a bit more about our company culture.
As a remote-first company, we value flexibility and create an environment where our team members can adjust their working schedules according to their hobbies and other activities. In achieving goals, we encourage our team members to be proactive and take the initiative, while we always have their back when they need some guidance or advice. We enjoy teamwork and like to celebrate the success of others, and when communicating feedback, we do it in a constructive way.
To keep all of our team members informed about what's happening on the company level, inside each department, and on every project, every month we organize an all-hands meeting. Also, at the end of the meeting, anyone can ask any question and there are no tabu topics. 🙂
To keep track of how our team members are progressing and how satisfied they are, we held regular performance review meetings twice a year. Apart from those meetings, we're also open at any time for team members to reach out with any questions, ideas, or concerns they wish to communicate.
Overall, we try to create an environment where our team members can reach their full potential by using and improving their knowledge and skills day by day, working in a positive environment on interesting and meaningful projects.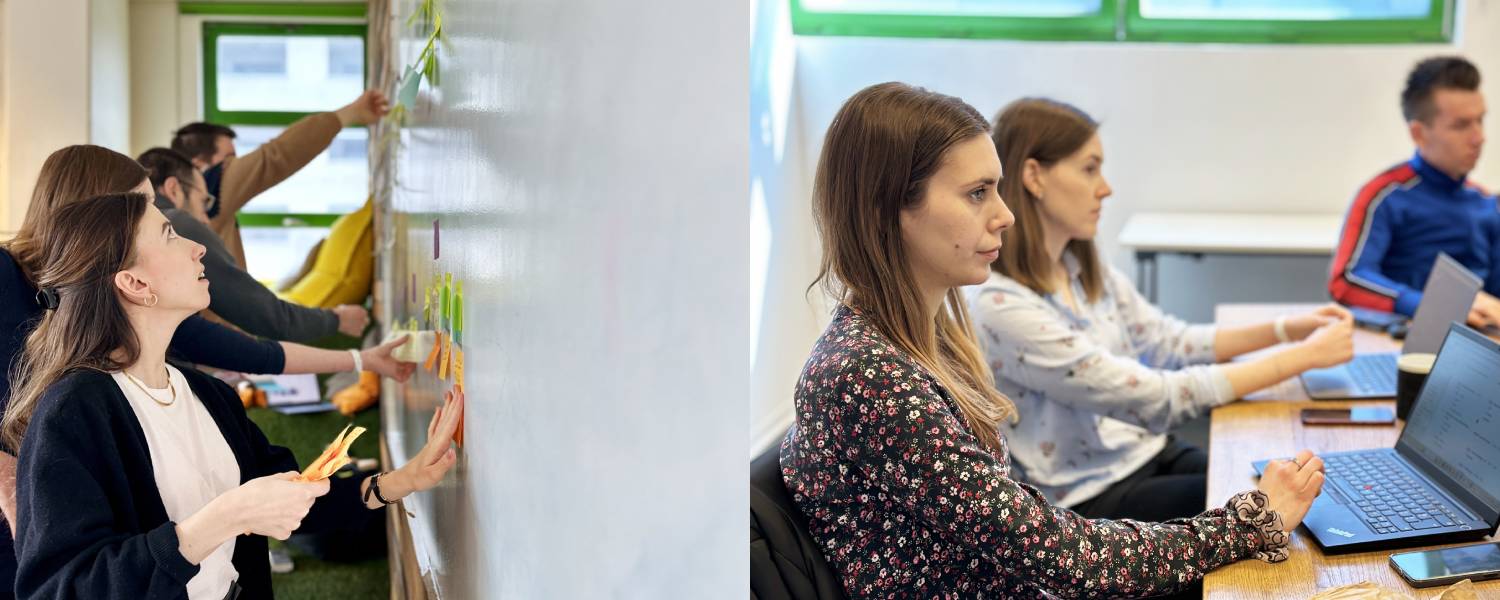 About our HR department and your role
We recognized the need for an HR department in Speck pretty early, when we were a company of around 10 employees. Since then, our HR department has been involved in regular meetings with leaders from other departments, management of the whole hiring process, as well as the implementation of our internal HR initiatives. In the hiring process, we do our best to find and attract the best candidates, and for them to have a great candidate experience. From the internal HR initiatives, we have regular performance reviews, education sessions and overall nurture a positive and open environment where everyone can reach out with a new idea or perhaps a concern they have.
As we're continuously growing, you as our new team member will firstly be involved in talent acquisition activities. You'll take ownership over the selection process for the positions dedicated to you and work closely with our hiring managers. After hiring a new team member, you'll also be in charge of carrying out onboarding activities.
Some of the other initiatives inside our HR department are organization and tracking of the employee performance and satisfaction, team building activities, educational activities, and cooperation with faculties. Here you'll get the chance to proactively suggest new ideas, participate in implementing them and carrying out activities.
During your onboarding period, you'll get familiar with all departments and our project teams, as well as our recruitment and hiring processes and our internal HR initiatives.
Since we've just started to grow our HR team, this is an exciting position where you'll have a chance to work in a smaller team, to take ownership of some processes along with the support from our side, work closely with our core team, and to see the bigger picture of the work that you do. Our main goal is to continue building an agency where employees are engaged, satisfied, and have enough space for growth and career development!
Some of the products we are currently working on in Speck
Peterson's – a leading provider of test preparation materials (GMT, SAT, TOEFL), career exploration tools, and scholarship searches. The platform is the main source of information for more than 500.000 students yearly. Our team works directly with Peterson's founders and holds a great dose of ownership over the product development.
Autoskola.hr – A product that we have developed independently enables candidates to prepare better for exams in traffic regulations as part of training for driving schools and allows driving schools to easily track the progress of candidates.
Branko – A product in the field of occupational safety, that helps small and mid-sized companies to keep everything they need in one place, digitized and well organized.
KidzToPros – EdTech startup from California (San Francisco) that scaled from providing extracurricular activities in one school to over 250 schools and tens of thousands of satisfied children and parents, in less than two years. We help KidzToPros to define product strategy, design the web and mobile interfaces, market their services, and measure the impact of their efforts.
Minka – Minka is an open banking platform allowing fintechs and traditional financial institutions to create new financial products. By using Google App Engine, we helped Minka deploy an open banking platform using REST API and Google Datastore, used by millions in Latin America.
What can you expect from us?
1. Competitive salary
We offer you a competitive compensation package along with regular evaluations of your skills and knowledge to enable further growth of your salary, along with the additional benefits.
2. Flexible working schedule
You can shape your working schedule according to your life, hobbies, and interests. No questions asked as long as the job is done.
3. Remote work
Even though we have an office in Zagreb (HUB385), we are a remote-first company.
4. Professional development
On a monthly basis, we are organizing internal education in the fields of Development, Design, QA, Product, and Marketing. Apart from that, we make sure you have access to any online course or book that you need and have a digital library with Kindle devices available for use.
5. SPECKtacular company culture
We respect one another enough to give and receive honest feedback. But we also know that the most valuable feedback is spoken through empathy which is why we nurture the culture of inclusivity and teamwork.
6. Slick equipment
MacBooks, monitors, headphones, magic mouses, and wireless keyboards – whatever you need to be at your best. In case you will be needing anything else, we are happy to hear your requests!
What do we expect from you?
2+ years of experience in similar roles
Familiarity with IT industry and experience with working in an dynamic environment
Familiarity with the hiring processes (sourcing candidates, contacting, etc.)
Problem solving mindset
Positive and proactive attitude
Excellent organizational skills
Excellent communication skills
Excellent knowledge of English language
Being ready to work in a fast-paced environment on diverse HR tasks
Familiarity with ATS tools and other communication and organizational tools (Slack, Google Drive, Notion…)
In case you have the skills and knowledge mentioned above, don't hesitate – send us your CV and we will get back to you! 🙂
If you have any questions about this position, shoot us a message at [email protected]
The position is open until October 3rd or until filled.